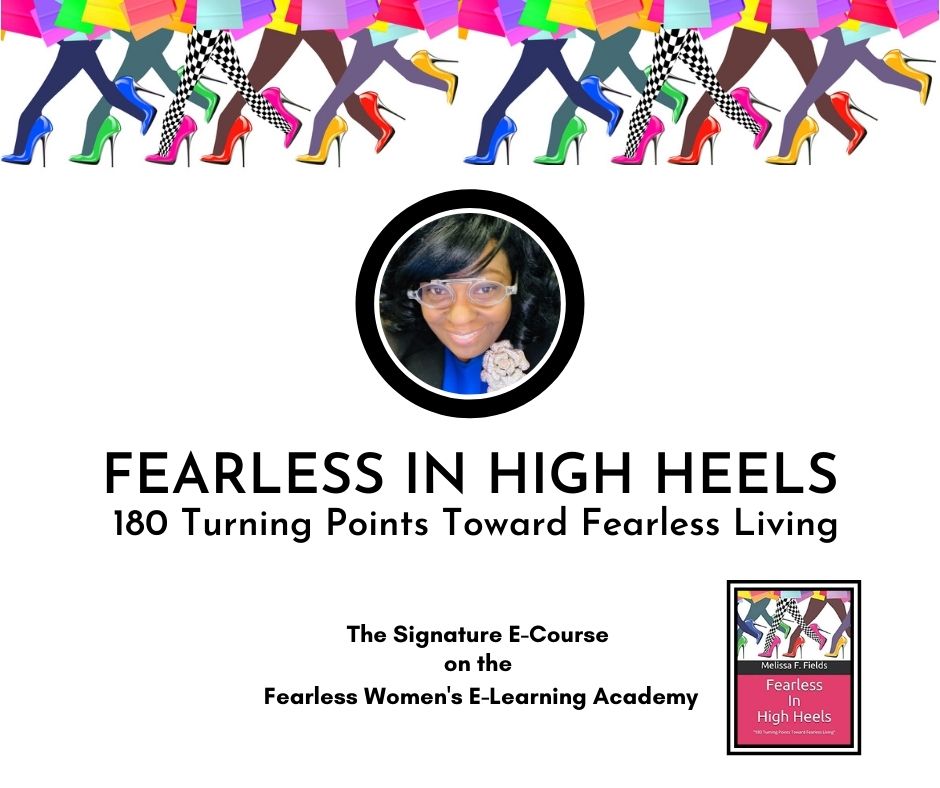 Ever stayed in a relationship longer than you should have? Ever remained on a job that you felt heaven urge you to leave? Was there ever a time when you were asked to fulfill a Kingdom-assignment and you said, "No, not me!" What are you dreading right now? Sister-friends, it is time to Live Fully … Not Fear-Fully!
This e-course explores fear and its sisters, brothers, and cousins. Fear in the form of self-doubt, the fear of failure, the fear of abandonment, the fear of rejection, procrastination, perfectionism, and other fears have been whispering in the ears of women since they were girls with pigtails and bushy eyebrows; seated at an elementary-school desk. 
This e-course is designed to provide women with transforming information, the results of studies, and life-altering systems to help them kick fear to the curb while reviewing the book, "Fearless In High Heels ... 180 Turning Points Toward Fearless Living." Press the "enroll now" button if you're ready to pray this, "Search My Mind, LORD! If you see any fear; take it out of me!"  
Course Benefits:
You'll gain a radiant inner confidence as you face your past fears, present concerns, and future apprehensions. You will walk away with tools of compassion to identify with the stifling fears in the next generation of your family. You'll notice yourself talking yourself out of old comfort zones. You'll experience the adrenaline rush of walking into new assignments. You will save time and money as you begin to omit second-guessing and critical self-talk. Then you can wave good-bye to The Wallflower ... Wallpaper Existence. You will catch yourself looking in the mirror and saying to your reflection, "Guuuurrrrl, You're Fearless In High Heels!"


Course Features:
·      The C.L.E.A.R. Thinking Mindset
·      Tips and Systems for kicking fear to the curb
·      Four Heavenly Declarations, "Fear Not!"
·      Dynamics of Making Your Turning Points Fearlessly
·      Four Detrimental Mindsets of Fear


The Course Is Designed For:
·      Women who would like to fast-track their progress in developing a fearless, fierce, and ferocious brand of faith. 
·      Women of faith who are: teachers, moms, aunties, mentors, youth leaders, women's ministry leaders, career women and passion-prenuers who have a passion for the next generation.


Course Includes:
·      4-Hours of Premium LIVE Video Training
·      Effective Group Coaching
·      5 Downloadable Resources  
·      2 Bonus Downloadable Resources


Prior Requirement:
·      A copy of the book, "Fearless In High Heels … 180 Turning Points Toward Fearless Living" 


Bonus Materials:
·      30-Days To Squashing The Imposter Syndrome ... An Intense and Intrusive Self-Assessment
·      Designing A Digital Vision Board For Mind-Blowing Results
Testimonial:
Wow! What a journey into who I really am. The journaling assignments were very challenging. I struggled with it weekly. I had to honor my investment and trust Lady Fields to continue the journaling process. And you know what, "The journal process was so beneficial to the transformation I received." The graphics were life-changing! This shined a light on issues that I personally needed to address. It helped me focus on what I need to do. The Book, "Fearless In High Heels … 180 Turning Points Toward Fearless Living" is the truth … the absolute truth. I now have the tools to deal with fears, many of which I didn't even know that I had! I can share these lessons and tools with my daughters.  I am so glad I took this program. 
2021 Course Dates:
February 6th, 13th, 20th, and 27th.
May 1st, 8th, 15th, and 22nd.
August 7th, 14th, 21st, and 28th.