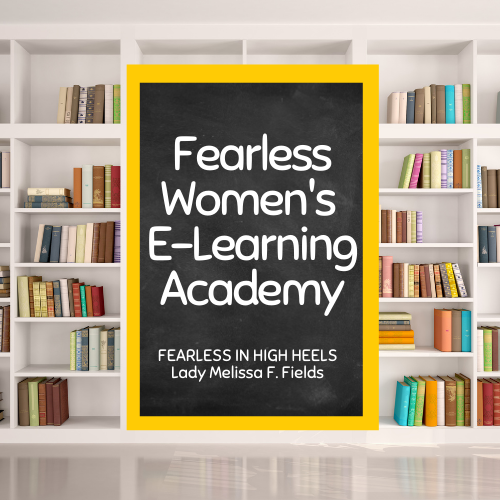 This Course Is Currently Closed
FAITH OVER FEAR 2021 CAMPAIGN
Hello, Faith-filled and Influential Sistahs!
We have got lots of choices … decisions to make in 2021! The proposition that will place itself in front of us, almost daily, will be … "Will you choose FAITH over FEAR?" Because of the subtlety of the enemy; we all need a little help in answering this persistent question. Some sources suggest that the average person makes an eye-popping 35,000 choices a day. When we deduct sleeping hours; that makes roughly 2,000 decisions per hour or one decision every two seconds. Mind blowing! We don't just need a little help; we need a community of women to help us and our families with this! 
That's where the Fearless In High Heels' FAITH OVER FEAR 2021 CAMPAIGN on the Fearless Women's E-Learning Academy enters the scenario. The Campaign includes: a closed community of positive women, prayer, The Word of God, four random Q&A sessions, 12 live teachings with Lady Melissa F. Fields, and more.   
Membership Holders Will Receive These Features


"The piping hot tea" on the private lives of 12 intriguing women of The Bible.


Exposure to and systems for implementing fear-smashing systems to the 12 major fears that confront 21st Century women in your professional and personal relationships.


A wealth of wisdom on passing down courageous living to the women in your circle of influence. 


Historical world highlights and intriguing insights into customs of The Bible.


12 hours of LIVE training with Lady Melissa F. Fields in our Exclusive "FAITH OVER FEAR" Facebook Cafe.


4 Saturday Morning Women's Follow-Up Discussions in our "FAITH over FEAR" Zoom Tea Room.


Weekly FAITH OVER FEAR activities, including: Scripture-prayer, Scripture-writing, anointed teaching, journaling, worksheets, checklists, Scripture reading, and more. 


Registration Opens December 1st, 2020
Registration Closed February 1th, 2021
Save time and money as you take back your time from the fearful activities of: second-guessing, procrastination, and more. 
Gain gems related to the feminine experience in The Word of God that will square your shoulders and catapult you into your 2021 purpose.
You'll begin to see and seize your daily opportunities to be a world changer.
Gain the feeling and sisterly-wisdom that comes with being a part of a body of women who are really shaking things up for God's Kingdom.
Walk away with mannerism of thinking and speaking to the grouchiest of persons to inspire hope, faith, and courage within them.
All that's left to do is click on the "buy now" button and reserve your seat.